All types of ductwork, from circular, oval to rectangular as well as all associated parts such as louvers, grilles, fire and smoke dampers (including testing), fans, and insulation.
We are fully certified and insured for any operation that we undergo, and our constantly re-training and improving our knowledge base only using the most up to date parts and equipment to achieve the service you require.
We have an array of suppliers at our disposal to help you choose what type of ductwork would best suit your application, whether it be galvanized metal, or new innovative materials such as phenolic, fabric, textile, and corrugated cardboard we can offer you the flexibility and freedom you desire, allowing you to choose the color and finish you desire.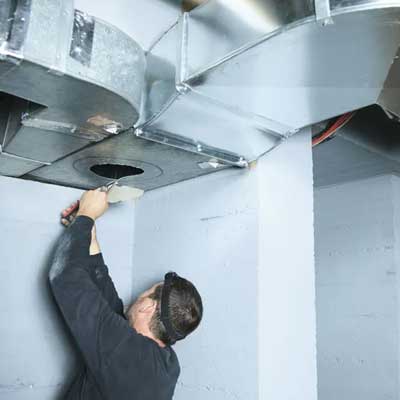 Earth Cooling System rule of thumb for consumers is that "if your ducts look dirty, they probably are," and that dirty HVAC systems should be inspected by a reputable, certified HVAC professional. Below are some other reasons homeowners choose to have their air ducts cleaned
Indoor Air Quality
While dirty ducts don't necessarily mean unhealthy air in your home, school, or workplace, they may be contributing to larger health issues or harboring contaminants that could cause serious problems for people with respiratory health conditions, autoimmune disorders, or some environmental allergies.
Energy Savings
According to the U.S. Department of Energy, 25 to 40 percent of the energy used for heating or cooling a home is wasted. Contaminants in the heating and cooling system cause it to work harder and shorten the life of your system. Although filters are used, the heating and cooling system still gets dirty through normal use.
When an HVAC system is clean, it doesn't have to work as hard to maintain the temperature you desire. As a result, less energy is used, leading to improved cost-effectiveness.
Our Professional Team equipped with Latest Equipments, are fully geared up to provide Technical Solutions and Provide Duct Cleaning Services.