Water cooled water chiller
Water cooled water chiller
Water cooled screw chiller
Water cooled Screw Chillers
water cooled scroll chiller
Water cooled chiller
WATER COOLED SCREW CHILLER
Product Details:
| | |
| --- | --- |
| Chiller Type | Screw Chiller |
| Voltage | 415 V |
| Usage/Application | Industrial |
| Type | Water-Cooled |
| Capacity | 75 Tr |
| Automation Grade | Semi-Automatic |
| Power Source | Electric |
| Frequency | 50 Hz |
| Model Name/Number | ECSC75WC |
| Brand | Earth Cooling System |
| Temperature Range | 5-15 Deg C |
| Refrigerant Used | RS-22 |
| Phase | Three |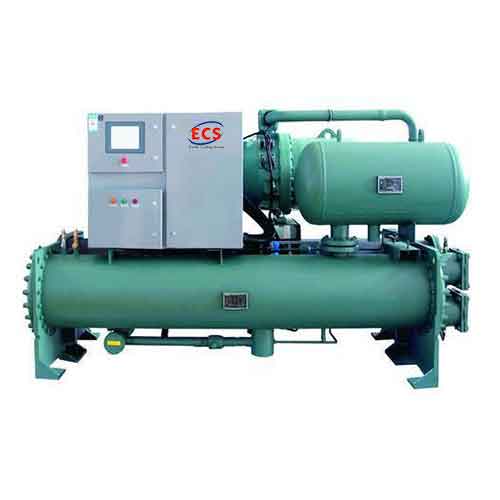 WATER COOLED SCREW CHILLER-1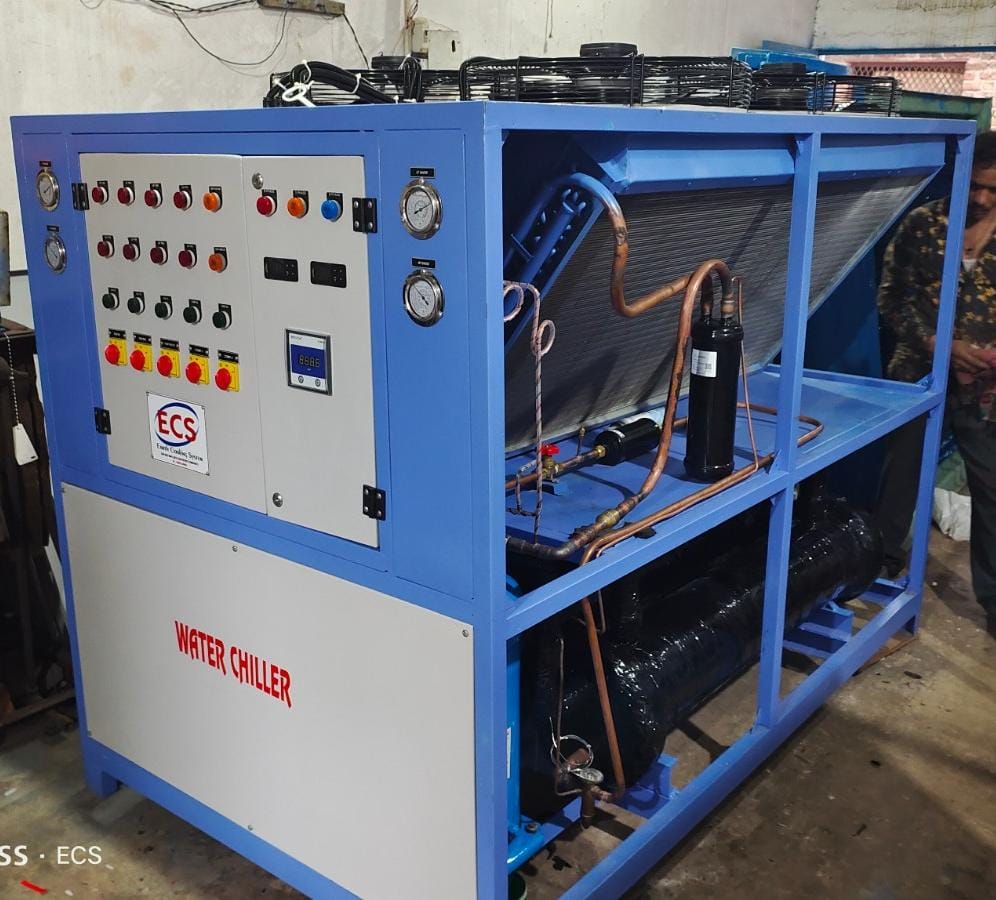 WATER COOLED SCREW CHILLER-2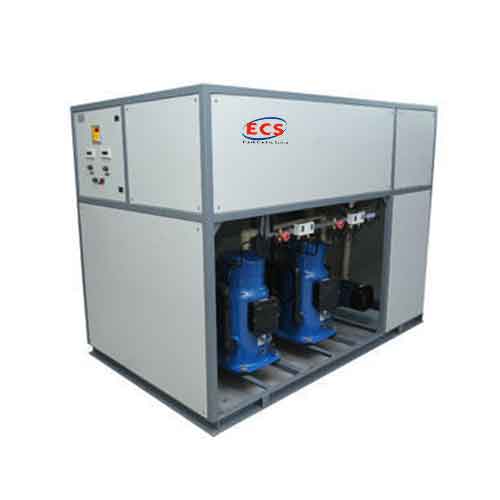 WATER COOLED SCREW CHILLER-3
Why Choose water cooled screw chiller?
The water cooled screw chiller can operate with minimal energy loss under the harshest tropical weather conditions. Superior designing and manufacturing standards were followed in the creation of the equipment. The environmentally friendly chillers are simple to install and have undergone all necessary testing to compete with the best. 
As a producer of water cooled screw chiller, our primary goal is to offer effective solutions for soothing chilling throughout a wide range of industries. It's crucial to understand how to recycle heat when employing water-cooled chillers in business settings. Right now water cooled screw chillers in India are in high demand because of the environment and heat. Although there are many other options but water cooled screw chiller can be the best fit for most people.
Water cooled Screw chillers in India that are modern and effective are provided by Earth's cooling system. Environment-friendly, energy-efficient, and user-friendly are all characteristics of these water-cooled screw chillers. Before offering them to customers, they are first created and tested. and are produced to the highest production standards.
Water Cooled Screw Chiller Manufacturer in India
For decades, Earth cooling systems, one of India's leading companies, has provided excellent cooling solutions. It has produced a variety of scroll and screw chillers. With this expertise, the company offers a variety of water-cooled screw chillers with incredibly low part-load power consumption. The chillers have environmentally friendly refrigerant in them. We sell water cooled screw chillers in Delhi extensively. 
Due to their effective and dependable performance, water-cooled chillers are a common cooling option for many sectors. They are frequently employed in settings like data centers, factories, and hospitals where precise temperature control is essential. For a long time, Earth Cooling System is known for being the best Water Cooled Screw Chiller Manufacturer in India.
Our chiller manufacturing business specializes in creating high-quality water-cooled chillers that are tailored to the specific requirements of our clients. Our chillers are made to be incredibly effective, flexible, and energy-efficient so that businesses may maximize their cooling systems. The efficiency of water cooled screw chillers is the main reason many people prefer this solution as compared to others. 
The water cooled screw chiller in Delhi from Earth Cooling Systems, which features variable frequency drives, offers excellent efficiency under part loads by adjusting its operating speed in response to changing loads, making them the perfect choice for a variety of load applications including office buildings, hotels, hospitals, shopping centers, and multiplexes.
Features of water-cooled screw chiller in India
Extended equipment life with the possibility of a variable frequency motor 
Outstanding dependability and high efficiency of energy 
User-friendly graphical interface 
Clean energy and intelligent management
Ozone cordial refrigerant and extremely dependable structure with best-class COP 
Alternative for Energy-Saving Equipment's 
Simple Interface with BMS using protocols
Provides remote operations, a completely automatic PLC-based controller and data logging capabilities.
Anti-freeze safety and water flow switches; reliable lubrication, even in the event of a power outage.
100% functionally tested and the equipment is developed and built in accordance with excellent design and manufacturing standards. 
World-class safety controllers for equipment and compressors.
Water Cooled Chiller Advantages
Using water cooled chiller in India instead of other kinds of cooling systems has several advantages, such as: 
Energy Efficiency: Chillers that are water-cooled use less energy than those that are air-cooled, which leads to cheaper energy expenditures and a smaller environmental effect.

Higher Cooling Capacity: Chillers that use water cooling have a higher cooling capacity than those that use air cooling, which makes them perfect for large-scale applications.

Silent Operation: In locations where noise is a concern, water-cooled chillers perform more quietly than air-cooled ones.

Higher Lives: Compared to air-cooled systems, water-cooled chillers typically have a longer lifespan, which over time lowers maintenance and replacement expenses.
Flexible Options in water cooled screw chillers
Since each company has different cooling requirements, we provide a variety of personalized choices for our water cooled screw chillers. In order to find the optimal system design, size, and features to satisfy each customer's unique needs, our team of professionals consults with clients frequently. Our water-cooled chillers are designed to offer dependable and effective cooling solutions, whether you require a chiller for a small office or a large-scale industrial application. You can rely on us for all your chiller needs since we are dedicated to providing great quality, value, and customer service. 
In the end, water-cooled chillers are suitable for low, high, or average capacity configurations that require enough extra and have no possibility of water scarcity. It should be noted that water-cooled chillers should not be set up in moist or wet environments. A water cooled screw chiller may appear to be pricey at first glance, but that cost is a one-time outlay. You need to go no further than our firm if you are looking for a trustworthy chiller manufacturer. We provide a comprehensive selection of water-cooled chillers with flexible options and top-notch performance that are tailored to your unique requirements.