Glycol chiller
Glycol Chillers
glycol cooling system
glycol chiller system
Glycol Chillers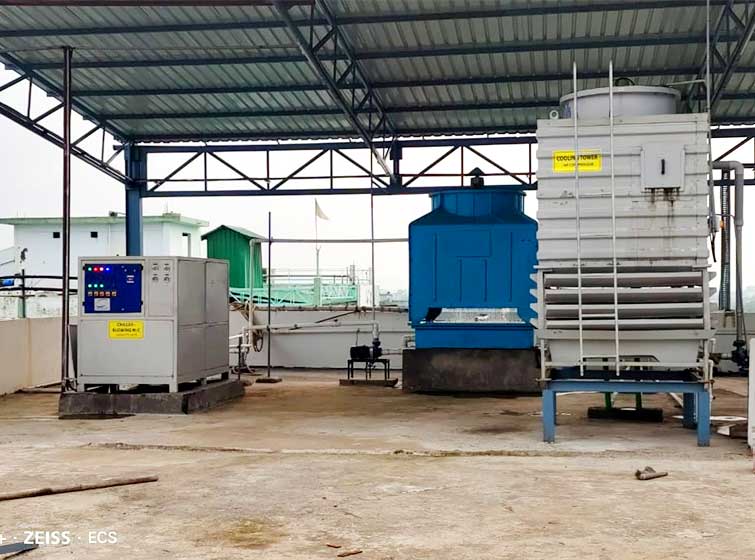 Product Details:
| | |
| --- | --- |
| Type | Water chiller |
| Power | 3ph,415V |
| Model Name/Number | ECS020WC |
| Cooling Capacity | 60000 |
| Compressor Type | Scroll |
| Brand | ECS |
Expert Glycol Chillers Manufacturers: Your Partner for Cooling Solutions
If you are looking for the best Glycol Chillers Manufacturers then look no further than ECS. Earth cooling system is an ideal choice who wants a specific kind of refrigeration system. Glycol is used to cool a combination of liquids, including alcohol and other beverages. Hence, we are the best Glycol Chillers Manufacturers due to most experience and technical understanding. Alcohol and other liquids are frequently cooled using a glycol chiller system, a particular type of refrigeration equipment. 
Depending on the demands of the manufacturing, companies can use a chiller to rapidly lower the temperature of the product. The use of a glycol chiller involves propylene glycol significantly. Further, few brewing operations, such as crash cooling beer after fermentation, maintaining a constant temperature during fermentation, or cooling the wort after the first boiling process, require lowering or maintaining temperature. 
Most of the time, glycol chillers are employed in thermal care applications, lowering both the initial investment and recurring energy costs. However, while choosing the best glycol chillers in India, you must consider several crucial variables. Even though, like all chillers, it has less pumping power and is less effective at transferring heat from a heat source to a heat sink than water.
Glycol chillers are a specialty of Earth Cooling Systems in the refrigeration industry. Our Glycol Chiller in India has high-quality results from years of manufacturing practice and experience. Besides, Earth Cooling System offers adaptable and individualized glycol chillers based on customer needs thanks to its years of experience and knowledge.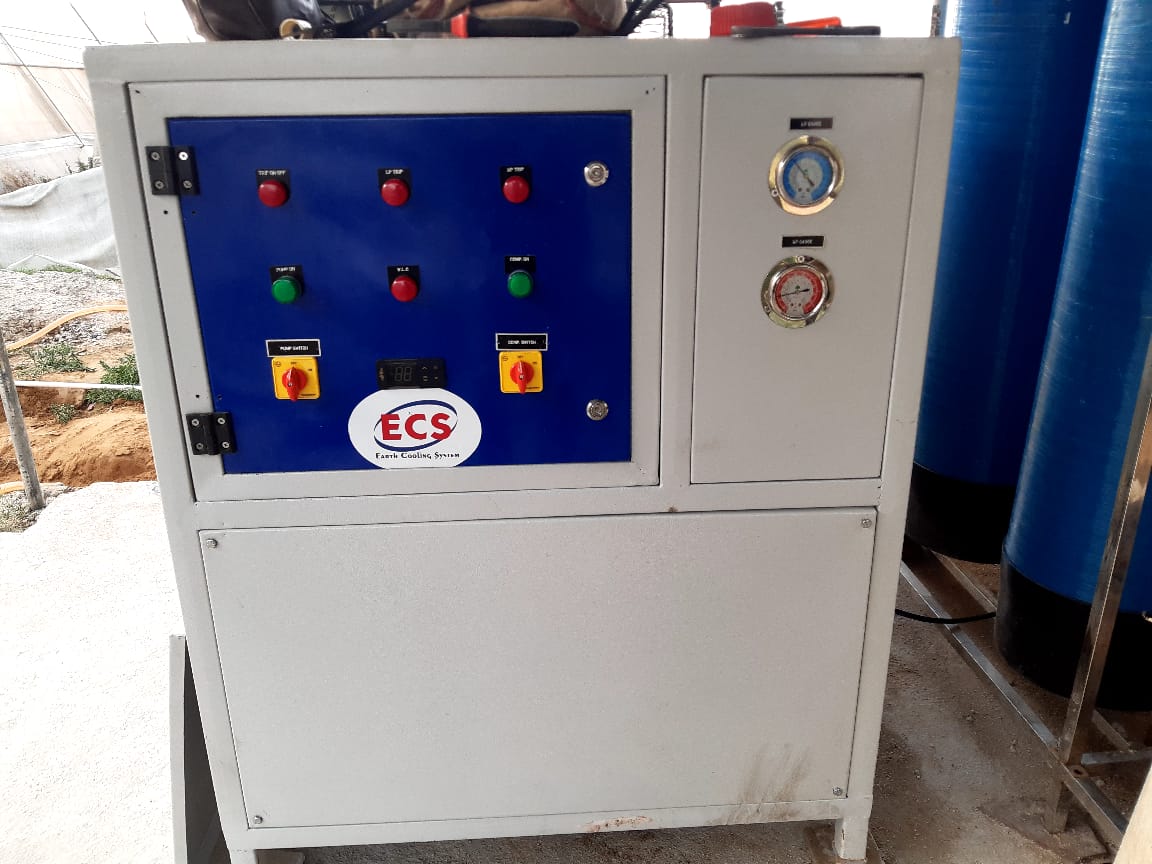 Glycol Chillers-1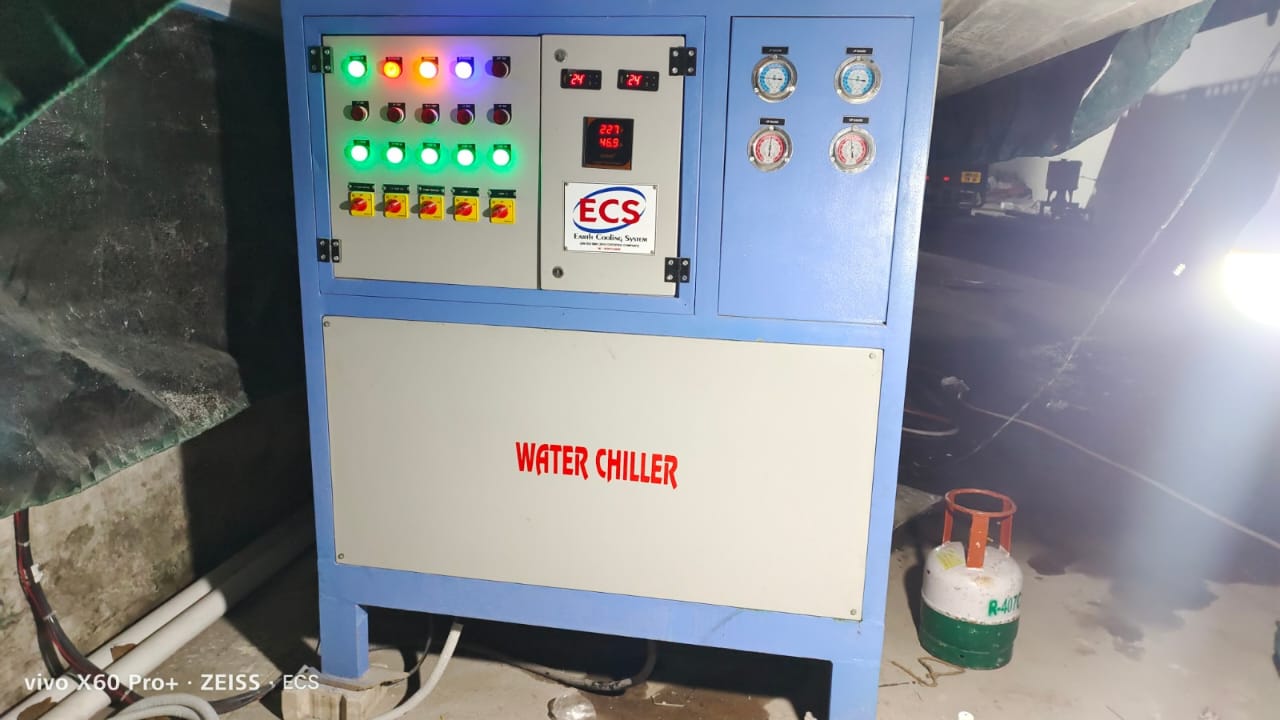 Glycol Chillers-2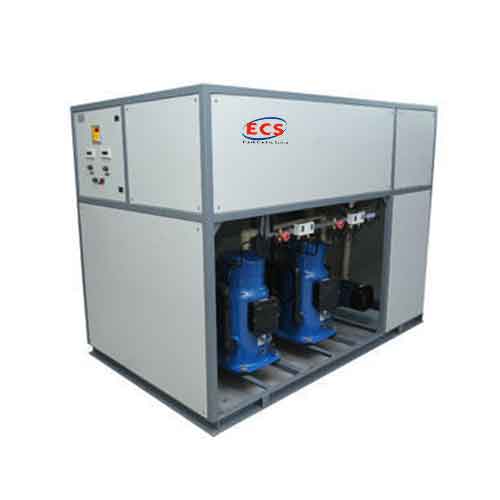 Glycol Chillers-3
We Provide The Best And Top Quality Glycol Chiller in India
Choose the earth cooling system for selecting the best Glycol Chiller in India with top-notch quality.  Furthermore, every chiller we sell is backed by our guarantee to make sure you get the most out of your brewery's glycol system. We give a warranty and offer top-notch customer support when you buy our glycol chiller, air cooled water chiller, and screw chiller. Additionally, the best value on liquid cooling glycol is also offered to you. If you are searching for a wonderful way to cool your beer without having to worry about it losing temperature, purchasing a commercial glycol chiller might be for you. Our glycol chillers can maintain temperature year-round.
The primary activity of the Earth Cooling System is the production of a glycol cooling system, along with numerous other refrigeration devices. The Top best Glycol Chiller Manufacturer has successfully completed the inspection and testing of every product they produce. Moreover, it has steadily developed into a company that offers customers glycol chillers systems and is committed to providing one-stop refrigeration solutions.
Glycol Chiller in India is highly required because of the hot weather. earthcoolingsystem.co.in offers high-quality assistance for installation.
Many parts of the world, both at home and abroad, are the clients of our Glycol Chillers Manufacturers. For many different industries, we offer dependable, effective, and ecologically friendly solutions.
What is Glycol?
A colorless, odorless liquid with a sweet taste (but no calories) is called glycol. People are most familiar with it as a constituent in antifreeze for mechanical cooling systems, water cooled chiller systems, and car engines. As per the Best Glycol Chiller Manufacturers in India, large amounts of heat could be absorbed and released by glycol without it changing in temperature. It is therefore perfect for use in refrigeration systems like beverage chillers.
In industrial chiller applications, glycol is a crucial heat-transfer fluid. Ethylene glycol tends to prevent algae formation in heat transfer equipment in addition to providing excellent heat transfer parameters. However, many homebrewers use glycol chillers in their home breweries, which enables them to produce excellent ales and lagers all year long.
Features of Earth Cooling System's Glycol Chillers
These are the main characteristics of our Glycol Chillers Manufacturers which are the best in the industry.
Get a high fluid flow that will maximize heat transfer while providing a quick and reliable cooling system.

The equipment is specifically made to provide temperature control in glycol between 20- and 30 degrees Fahrenheit to support the necessary cooling requirements. It is also made to function flawlessly in all harsh environments. Boosting your industry's output will have decreased maintenance expenses.

Earth Cooling Glycol Chillers Manufacturers' expert team of engineers will correctly support every item to provide you with thorough guidance. In order to have an investment with a higher return on investment, our team of skilled service professionals will ensure the right selection of water chiller.

Highly reliable and efficient compressors that are entirely improved for use in your industry.
How does Glycol Chiller System work?
A refrigeration unit and tubing that contains a glycol-water mixture as a coolant make up a glycol chiller plant. The piping connected to a thermal exchanger encircling a heated process is used to channel chilled fluid from the refrigeration unit. The warmed coolant is returned to the refrigeration unit for chilling after absorbing heat from the linked process, and the cycle is then repeated. We are also known as the best chiller manufacturer in Delhi because of our expertise in a wide range of chillers.
How Glycol Chiller in India are used?
In our Glycol Chillers Manufacturers in India, to complete water condensation and turn starch into sugar, homebrewers can quickly cool their worts below boiling temperatures with the help of glycol chillers. Chilling also slows down yeast activity, giving brewers time to accurately calculate yeast pitch rates and preventing potential off-flavors brought on by over-pitching. Hence, it is crucial to choose a top-level Glycol Chiller in India from a brand like us to get top-notch quality.
Furthermore, glycol chillers enable you to quickly remove heat from your beer-in-progress in order to avoid potential wort caramelization (burning). When hot wort initially enters the counterflow chiller during runoff, this is very crucial. Moreover, glycol chillers help brewers save time and water by lowering wort temperatures at the end of a long brew day. Additionally, as the Glycol Chillers Manufacturers we understand that glycol chillers enable you to hold your beverage outside.